Tuberolabium brevirhachis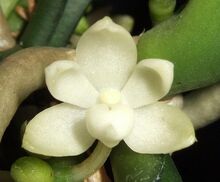 Tuberolabium brevirhachis is an species in the genus Tuberolabium.
Description
Edit
Plant blooms from summer to fall.
Distribution
Edit
Plants are found growing in Luzon, Philippines
Plant grows in warm conditions with medium amounts of light. Plants should be potted in medium bark, tree fern or sphagnum moss. Water everytime when the mix has just about dried.
Common Names: Short leaved Tuberolabium
* Saccolabium brevirhachis L.O.Williams, 1938.
Trachoma brevirhachis (L.O.Williams) Garay, 1972.