Trichosalpinx dura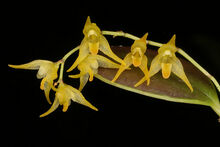 Trichosalpinx dura is a species in the Trichosalpinx genus.
Description
Edit
Plant blooms in summer and winter with a several 1 cm wide flowers.
Distribution
Edit
Plant is found growing in the montane forest of Mexico, Belize, Guatemala, El Salvador, Costa Rica, Panama, Colombia, Ecuador, Peru, Bolivia, Surinam, Venezuela, Brazil, Cuba, Jamaica, Leewards, Puerto Rico,Trinidad and Tobago at elevations of 700 to 2000 meters
Keep plant in shade. Plant can be grown in intermediate conditions. Pot the plant in fine bark with perlite or sphagnum moss. Water regularly and keep potting media moist. Plants prefer high humidity.
Common Name: The Rigid Trichosalpinx
Humboldtia dura (Lindl.) Kuntze 1891
Humboldtia foliata (Griseb.) Kuntze, 1891
Humboltia dura (Lindl.) Kuntze 1891
Humboltia foliata (Griseb.) Kuntze 1891
Pleurothallis amygdalina Rolfe ex Schltr. 1916
Pleurothallis amygdalodora Kraenzl. 1906
Pleurothallis anomala Hoehne 1929
Pleurothallis broadwayi Ames 1908
Pleurothallis broadwayi subsp. anomala (Hoehne) Garay 1929
Pleurothallis corazonica F. Lehm. & Kraenzl. 1899
*Pleurothallis dura Lindl. 1859
Pleurothallis foliata Griseb. 1864
Pleurothallis guadalaupensis Cogn. 1909
Pleurothallis lepanthopsis Schltr. 1916
Pleurothallis nana Ames & C. Schweinf. 1925
Pleurothallis pyxos Luer & R.Escobar 1981
Pleurothallis williamsii Ames 1922
Trichosalpinx amygdalodora (Kraenzl.) Luer 1997
Trichosalpinx foliata (Griseb.) Luer 1983
Trichosalpinx nana (Ames & C. Schweinf.) Luer 1983
Trichosalpinx pyxos (Luer & R.Escobar) Luer 1983
Ad blocker interference detected!
Wikia is a free-to-use site that makes money from advertising. We have a modified experience for viewers using ad blockers

Wikia is not accessible if you've made further modifications. Remove the custom ad blocker rule(s) and the page will load as expected.