Stanhopea oculata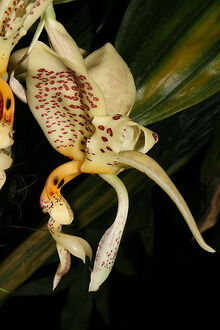 Stanhopea oculata is a Stanhopea species found in South and Central America.
Distribution
Edit
Plants are found growing on soil cliffs and in humid forest trees in Mexico to Honduras as well as Colombia and Venezuela at 1000 to 3000 meters.
Description
Edit
Plants bloom in the summer with five to nine 12.5 cm fragrant flowers.
Plant should be grown in shade. Keep in cool to intermediate temperatures and water regularly. Pot in medium fir bark or sphagnum moss. Keep humidity high. Plants are usually grown in baskets.
| Image | Name | Description |
| --- | --- | --- |
| | Stanhopea oculata variety | Sepals and lip are yellow with small spots |
Common Name: The Eye-Spot Stanhopea
Ceratochilus oculatus Lodd.
Epidendrum cornutum Sessé & Moc. 1887
Stanhopea aurantia Lodd. ex P.N.Don in J.Donn 1845
Stanhopea bucephalus Lindley 1832
Stanhopea cymbiformis Rchb.f 1865
Stanhopea guttata K.Koch 1858
Stanhopea lindleyana Zuc. ex Josst 1851
Stanhopea lindleyi Zuce 1835
Stanhopea maleolens Heller
Stanhopea minor Schltr. 1917
Stanhopea oculata var. crocea Regel 1856
Stanhopea oculata [Lodd.]Lindley var genticulata Klinge
Stanhopea oculata var. lindleyi (Zuccarini) Lindley 1852
Stanhopea oculata var.mexicana Fowlie
Stanhopea oculata var.nicaraguensis Fowlie
Stanhopea oculata ssp. ornatissima (Lemaire) Dodson 1967
Stanhopea ornatissima Lem. 1962
Stanhopea purpusii Schlechter 1916
Ad blocker interference detected!
Wikia is a free-to-use site that makes money from advertising. We have a modified experience for viewers using ad blockers

Wikia is not accessible if you've made further modifications. Remove the custom ad blocker rule(s) and the page will load as expected.