Platanthera peramoena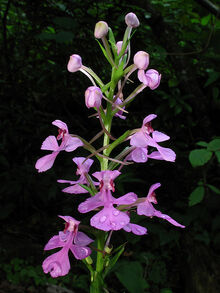 Platanthera peramoena is a terrestrial orchid in the genus Platanthera
Distribution
Edit
Plant is found growing in wet woodlands, damp meadows, and near running water in Missouri, Illinois, Indiana, Ohio, Pennsylvania, West Virginia, New Jersey, Maryland, Delaware, Virginia, Kentucky, Tennessee, North Carolina, South Carolina, Georgia, Alabama, Missisippi and Arkansas states of the United States of America.
Description
Edit
Plants bloom from late spring to summer with several flowers.
Plant grows in cool conditions with moderate lighting.
Common name:The Huron Platanthera
Blephariglottis peramoena (A.Gray) Rydb. in N.L.Britton 1901
Fimbriella peramoena (A.Gray) Butzin 1981
*Habenaria peramoena (A.Gray) A.Gray 1867
Habenaria psycodes f. leucophaeopsis B.Boivin 1967
Habenaria psycodes f. nivalis F.Seym. 1969
Habenaria psycodes var. fernaldii J.Rousseau & Rouleau 1957
Ophrys fimbriata Walter 1788; Orchis peramoena (A.Gray) Alph.Wood 1870
Platanthera bigelovii Alph.Wood 1861
Platanthera peramoena f. doddsiae P.M.Br.2002
Platanthera psycodes f. fernaldii (J.Rousseau & Rouleau) P.M.Br. 2006
Ad blocker interference detected!
Wikia is a free-to-use site that makes money from advertising. We have a modified experience for viewers using ad blockers

Wikia is not accessible if you've made further modifications. Remove the custom ad blocker rule(s) and the page will load as expected.