Piperia unalascensis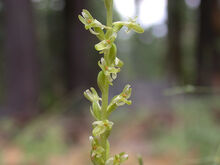 Piperia unalascensis is a plant of the family Orchidaceae and the genus Piperia
Distribution
Edit
Plant is found growing terrestrially in the rocky hills, open meadows, and forest of US and Canada
Description
Edit
Plant blooms from spring to summer with many successive flowers.
Common name: Not In Alaska Piperia
Habenaria foetida (Geyer ex Hook.) S.Watson 1871
Habenaria schischmareffiana Cham. 1828
Herminium unalascense [Spreng.]Rchb. f. 1851
Monorchis unalaschcensis (Spreng.) O.Schwarz 1949
Platanthera schischmareffiana (Cham.) Lindl. 1835
Platanthera unalascensis (Spreng.) Kurtz 1894
Platanthera foetida Geyer ex Hook. 1855
*Spiranthes unalascensis Spreng. 1826
Habenaria unalascensis (Spreng.) S. Watson 1877
Ad blocker interference detected!
Wikia is a free-to-use site that makes money from advertising. We have a modified experience for viewers using ad blockers

Wikia is not accessible if you've made further modifications. Remove the custom ad blocker rule(s) and the page will load as expected.