Piperia elongata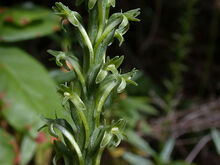 Piperia elongata is a plant of the family Orchidaceae and the genus Piperia
Distribution
Edit
Plant is found growing terrestrially in Chaparral, Foothill Woodland, Yellow Pine Forest, Red Fir Forest, Northern Coastal Scrub, Closed-cone Pine Forest of California, Idaho, Montana, Oregon and Washington, United States at elevations of 0 to 2400 meters
Description
Edit
Plant blooms in the fall with many successive flowers.
Common name: dense flowered rein orchid
Platanthera elongata (Rydb.) R.M.Bateman, 2003
Ad blocker interference detected!
Wikia is a free-to-use site that makes money from advertising. We have a modified experience for viewers using ad blockers

Wikia is not accessible if you've made further modifications. Remove the custom ad blocker rule(s) and the page will load as expected.