Phalaenopsis pulcherrima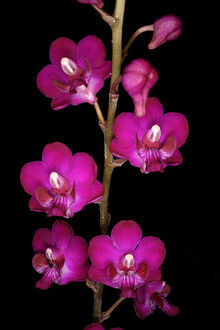 Phalaenopsis pulcherrima is an species in the genus Phalaenopsis.
Description
Edit
Plant blooms from summer to fall with up to ten 1.25 to 5 cm wide flowers.
Distribution
Edit
Plants are found growing in the lowland forest of Assam India, Myanamar, Thailand, Malaysia, Laos, Cambodia, Yunnan and Xizang China, Vietnam, Borneo and Sumatra
Grow in intermediate to warm temperatures. Pot in medium fir bark and keep in moderate light. Water about once a week. Keep plant fairly moist but not wet.
Varieties
Edit
| Image | Name | Description |
| --- | --- | --- |
| | Phalaenopsis pulcherrima var. coerulea (Fowlie) Christenson 2001 | Sepals and petals are light purple. Lip is purple |
Common Names:The Beautiful Phalaenopsis
Doritis pulcherrima f. albiflora (Rchb.f.) Roeth & O.Gruss 1999
Phalaenopsis antennifera Rchb.f 1879
Doritis pulcherrima Lindley 1832
Phalaenopsis esmeralda Rchb.f 1874
Phalaenopsis esmeralda var. albiflora Rchb.f. 1877
Phalaenopsis esmeralda var rubra Hort. ex Stein 1892
Phalaenopsis mastersii King & OPantl. 1897
Doritis pulcherrima f. caerulea (Fowlie) O.Gruss & Roeth 1999
Doritis pulcherrima var. caerulea Fowlie 1969
Doritis pulcherrima Lindley var coerulea Fowlie 1969
Doritis pulcherrima f. alba O.Gruss & J.Roeth 1999
Ad blocker interference detected!
Wikia is a free-to-use site that makes money from advertising. We have a modified experience for viewers using ad blockers

Wikia is not accessible if you've made further modifications. Remove the custom ad blocker rule(s) and the page will load as expected.