Phalaenopsis pallens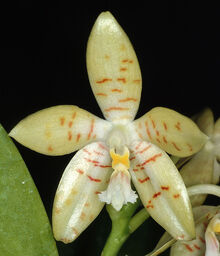 Phalaenopsis pallens is an species in the genus Phalaenopsis.
Description
Edit
Plant blooms from fall to early spring with up to four 3.5 to 4 cm flowers. Plant can bloom off of the same inflorescence again if it is undamaged.
This species was first described by Lindley as Trichoglottis pallens from a plant grown by Duke of Devonshire in 1849. Reichen bach recognized Lindley's mistake and transfered it to the genus Phalaenopsis in 1864
Distribution
Edit
Plants are found growing in the lowland forest of the Philippines at elevations around 500 meters
Grow in warm temperatures. Pot in medium fir bark and keep in partial shade. Water about once a week. Keep plant fairly moist but not wet.
Varieties
Edit
| Image | Name | Description |
| --- | --- | --- |
| | Phalaenopsis pallens var. denticulata | Sepals and petals are cream color with large stripes. Lip is white with yellow and purple |
| | Phalaenopsis pallens variant | Sepals and petals are cyellow. Lip is white with yellow |
Common Names: Pale Colored Phalaenopsis
Phalaenopsis denticulata Rchb. f. 1887
Phalaenopsis foestermannii Rchb.f 1887
Phalaenopsis lueddemannia var. pallens Burb. 1882
Phalaenopsis mariae var. alba Ames & Quisumb. 1935
Phalaenopsis mariae var alba Burbidge ex Warner ?
Phalaenopsis pallens f. alba (Ames & Quisumb.) Christenson 2001
Phalaenopsis pallens f. fourmaniana O.Gruss 2001
Phalaenopsis pallens var. alba [Ames & Quis] Sweet 1969
Phalaenopsis pallens var. pallens [Lindley]Rchb.f 1864
Phalaenopsis pallens var. trullifera Sweet 1968
Polychilos pallens (Lindl.) Shim 1982
Stauropsis pallens Rchb. f. 1860
*Trichoglottis pallens Lindley 1850
References
Edit
Sweet, Herman R.. The Genus Phalaenopsis. The Orchid Digest, 1980.
Ad blocker interference detected!
Wikia is a free-to-use site that makes money from advertising. We have a modified experience for viewers using ad blockers

Wikia is not accessible if you've made further modifications. Remove the custom ad blocker rule(s) and the page will load as expected.