Paphiopedilum malipoense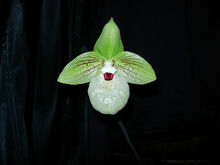 Paphiopedilum malipoense is a species of Paphiopedilum found in Asia.
Description
Edit
Plant blooms during the summer with one flower around 10 cm in width. Its flowers have a raspberry fragrance.
Distribution
Edit
Paphiopedilum malipoense is found in Yunnan, China and North Vietnam growing on limestone cliffs and soil in heavily forested area at 550 to 670 meters. The region is subjected to low rainfalls and mist in the winter and drizzle from late winter to early spring. Summer is very wet in the region.
Keep plants moderately lighted or partially shaded with humidity at 70 to 80% with an intermediate temperatures. To induce blooming, with hold watering and maintain a low cool temperature, ie. 55°F during winter nights. Plants prefers moisture. Warm summers will cause the plant to produce large leaves. Don't allow salt to build up in mix.
| Image | Name | Description |
| --- | --- | --- |
| | Paphiopedilum malipoense var. jackii(H.S.Hua) Aver. (1997). | Sepals and petals are green. Lip is green. Column is white |
Common Names:The Malipo Paphiopedilum
Paphiopedilum angustatum Z.J.Liu & S.C.Chen 2000
Paphiopedilum malipoense f. concolor Braem 1998
Paphiopedilum malipoense f. tonnianum Roeth 2000
Paphiopedilum malipoense f. virescens O.Gruss & Roeth 2001
Paphiopedilum malipoense var. angustatum (Z.J.Liu & S.C.Chen) Z.J.Liu & S.C.Chen 2002
Ad blocker interference detected!
Wikia is a free-to-use site that makes money from advertising. We have a modified experience for viewers using ad blockers

Wikia is not accessible if you've made further modifications. Remove the custom ad blocker rule(s) and the page will load as expected.