Oncidium tipuloides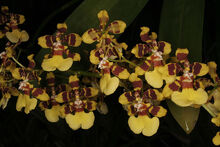 Oncidium tipuloides is an epiphytic orchid from the genus Oncidium.
Description
Edit
Plants blooms in the spring with many 2.5cm wide flowers.
Distribution
Edit
Plants are found in Ecuador, Peru and Bolivia at elevations of 1000 to 2100 meters
Grow in cool to warm conditions with moderate to bright light. Water the plant right before the potting mix starts to dry. Plants should be potted in a well drain medium such as medium fir bark.
Common name:The Gnat-Like Oncidium
Oncidium ototmeton Kraenzl. 1922