Maxillaria ubatubana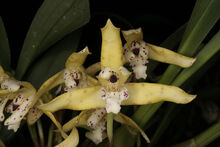 Maxillaria ubatubana is a species in the Maxillaria genus.
Description
Edit
Plant blooms with a single 5cm wide flowers.
Distribution
Edit
Plant is found in the cloud forest of South Eastern Brazil
Plant can be grown in a fine bark medium, full sphagnum moss, or mounted on treefern or cork. Grow in intermediate conditions with medium amounts of light. Water regularly and keep mix moist but not wet. Plant require semi-dry rest through the winter month.
Common Name: The Ubatuba Maxillaria
Maxillaria ubatubana var. mantiqueirana Hoehne, 1952.