Limodorum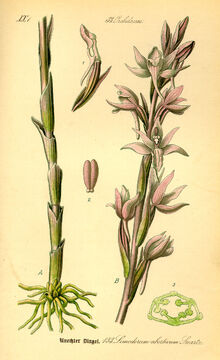 Limodorum atrorubens from
Flora von Deutschland, Österreich und der Schweiz

Limodorum is a genus of several terrestrial orchid species.
Distribution
Edit
This genus is distributed throughout the Mediterranean and southern Europe.
Description
Edit
Plants depend on mycorrhizal fungi for nutrient.
The name is a reference to being a gift from the meadow
Centrosis Sw. 1814
Jonorchis G. Beck 1890
Ad blocker interference detected!
Wikia is a free-to-use site that makes money from advertising. We have a modified experience for viewers using ad blockers

Wikia is not accessible if you've made further modifications. Remove the custom ad blocker rule(s) and the page will load as expected.