Ad blocker interference detected!
Wikia is a free-to-use site that makes money from advertising. We have a modified experience for viewers using ad blockers

Wikia is not accessible if you've made further modifications. Remove the custom ad blocker rule(s) and the page will load as expected.
Laelia anceps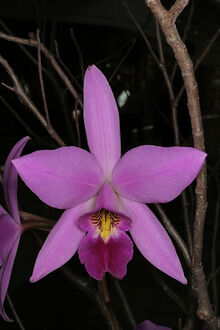 Laelia anceps is a plant in the genus Laelia.
Description
Edit
Plant bloom from fall to spring with three to six 10 cm wide flowers. Flowers are fragrant.
Distribution
Edit
Plant is found growing on rocks and pine trees in the forest of Mexico and Honduras at elevations of 500 to 1500 meters.
Plants should be grown in medium fir bark with partial to full sun. Plant is a cool to warm growing orchid species. Water approximately once a week. Plant can also be mounted. Reduce watering during the winter.
Varieties
Edit
| Image | Name | Description |
| --- | --- | --- |
| | Laelia anceps var. alba | Sepals and petals are white, lip is white with a yellow center |
| | Laelia anceps var. dawsonii | Sepals and petals are white, lip is white with a yellow center and pink patch |
| | Laelia anceps var. guerrero | Sepals are pink and petals are magenta, lip is red |
| | Laelia anceps var. lineata striata (hort. disciplinata) | Sepals and petals are pink with red edges, lip is red |
| | Laelia anceps var. roeblingiana | Sepals are pink and petals are magenta with a white patch, lip is red with a yellow center |
| | Laelia anceps var. veitchiana | Sepals and petals are white, lip is purple |
| | Laelia anceps var. williamsianum | Sepals and petals are white, lip is white with yellow in the center and red veins |
| 100px | Laelia anceps 'Cal Colossal' | Sepals and petals are pink, lip is red |
Common Name: Two-edged Laelia
Amalia anceps (Lindl.) Heynh. 1846
Amalias anceps [Lindley] Hoffmannsegg 1842
Bletia anceps [Lindley] Rchb.f 1863
Cattleya anceps [Lindley]Beer 1854
Laelia barkeriana Knowles & Westc. 1837
Laelia anceps var guerrero
Laelia anceps fma. chilapensis Soto Arenas 1993
Laelia anceps fma. dawsonii (J. Anderson) Soto Arenas 1993
Laelia anceps subsp. dawsonii Rolfe 1922
Laelia anceps subsp. sanderiana (Rchb.f.) Rolfe 1922
Laelia anceps subsp. schroederiana (Rchb.f.) Rolfe 1922
Laelia anceps var. hallidayana O'Brien 1894
Laelia anceps var. sanderiana Rchb.f. 1887
Laelia anceps var. schroederiana Rchb.f. 1885
Laelia dawsoni Crawshay 1902
Laelia sanderiana (Rchb.f.) Crawshay 1902
Laelia hallidayana (O'Brien) Crawshay 1902
Laelia schroederae Crawshay 1902
Laelia schroederiana (Rchb.f.) Crawshay 1902