Holcoglossum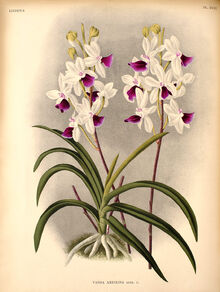 Holcoglossum amesianum from Lindenia Iconographie des Orchidées

Holcoglossum abbreviated as Hlcgl in horticultural trade is a genus
Distribution
Edit
Plants from this genus are distributed from Assam to Taiwan.
Description
Edit
Rather than depending on insects or even the wind for pollination, scientists have discovered that the orchid Holcoglossum amesianum actually fertilizes itself. The orchid defies gravity to twist the male part of its flower into the necessary shape to fertilize the female one.
The plant does so without the help of sticky fluids or other methods used by self-pollinating plants to ensure that the pollen reaches the egg. It grows on tree trunks in China's Yunnan province and flowers during the dry, windless months of February to April.
The orchid produces no scent or nectar. Instead, the pollen-bearing anther uncovers itself and rotates into a suitable position to insert into the stigma cavity, where fertilization takes place. This sexual relationship is so exclusive that flowers do not even transfer pollen to other flowers on the same plant.
Plants are best grown mounted or in baskets and usually require moderate to full sunlight with cool to intermediate temperatures. If hunged the roots must be watered frequently. Plants should be grown in media that is well drained such as tree fern fibers (for small plants) and sphagnum moss. Plants also do well mounted on a stick with sphagnum moss.
The genus is named after its tongue shaped-like lip.
References
Edit
Ad blocker interference detected!
Wikia is a free-to-use site that makes money from advertising. We have a modified experience for viewers using ad blockers

Wikia is not accessible if you've made further modifications. Remove the custom ad blocker rule(s) and the page will load as expected.