Goodyera schlechtendaliana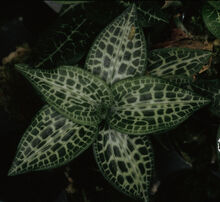 Goodyera schlechtendaliana is a species from the genus Goodyera.
Distribution
Edit
Plants are found growing in limestone and humus in the montane forest of Assam, eastern Himalayas, India, Bhutan, Nepal, Myanamar, Thailnd, Vietnam, Taiwan, China, Korea, Japan, Taiwan, Sumatra and Java at elevations of 1000 to 2500 meters
Description
Edit
Plants bloom in the late spring to summer with many 8 mm wide flowers.
Plants are usually grown in cool to warm conditions. Keep plants in a shady area. Pot with a well drain medium composed of sand, fir bark, perlite, and soil. Plants should be kept evenly moist
Common Name: Schlechtendal's Goodyeara
Epipactis labiata (Pamp.) Hu 1925
Epipactis melinostele (Schltr.) Hu 1925
Epipactis schlechtendahliana A.A. Eaton [Rchb.f] 1908
Georchis schlechtendaliana (Rchb.f.) Rchb.f. 1857
Goodyera arisanensis Hayata 1916
Goodyera labiata Pamp. 1910
Goodyera japonica Blume 1858
Goodyera labiata Pamp. 1910
Goodyera melinostele Schltr. 1919
Goodyera schlechtendaliana f. similis (Blume) Makino 1905
Goodyera similis Blume 1858
Orchiodes schlechtendalianum (Rchb. f.) Kuntze 1891
Peramium arisanense (Hayata) Makino 1929
Peramium schlechtendalianum (Rchb.f.) Makino 1929
Ad blocker interference detected!
Wikia is a free-to-use site that makes money from advertising. We have a modified experience for viewers using ad blockers

Wikia is not accessible if you've made further modifications. Remove the custom ad blocker rule(s) and the page will load as expected.