Eulophia livingstoneana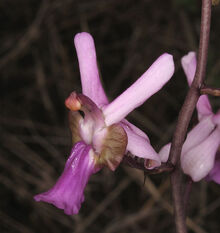 Eulophia livingstoneana is a species of Eulophia
Description
Edit
Plant blooms from spring to summer with seven to fifteen 5 cm wide flowers. Flowers are fragrant.
Distribution
Edit
Plants are found growing in the grasslands and deciduous forest of Rwanda, Burundi, Central African Republic, Zaire, Ethiopia, Sudan, Kenya, Tanzania, Uganda, Angola, Malawi, Zambia, Zimbabwe, Botswana, Namibia, Transvaal South Africa, Mozambique, The Comoros and Madagascar at elevations of 0 to 2350 meters
Plant should be grown in well drain medium such as medium bark, tree fern or full sphagnum moss. Plants are usually grown mounted. Keep plant in warm temperatures in moderate to bright light. Keep mix moist but not wet and reduce watering in the winter.
Common Name: Livingstone's Eulophia
Eulophia faradjensis De Wild. 1919
Eulophia gracilior (Rendle) Butzin 1975
Eulophia jumelleana Schltr. 1913
Eulophia robusta Rolfe 1910
Eulophia robusta Schltr. 1913
Lissochilus affinis Rendle 1895
Lissochilus cornigerus Rendle 1895
Lissochilus fallax Rchb.f. 1881
Lissochilus faradjensis De Wild. 1919
Lissochilus gracilior Rendle 1895
Lissochilus gracilior var. angusta Rendle 1895
Lissochilus jumelleanus (Schltr.) Schltr. 1915
Lissochilus laggiarae Schltr. 1918
*Lissochilus livingstoneanus Rchb.f. 1881
Lissochilus malangensis Rchb.f. 1881
Lissochilus mediocris Rendle 1895
Lissochilus rutenbergianus Kraenzl. 1882
Ad blocker interference detected!
Wikia is a free-to-use site that makes money from advertising. We have a modified experience for viewers using ad blockers

Wikia is not accessible if you've made further modifications. Remove the custom ad blocker rule(s) and the page will load as expected.