Epipactis palustris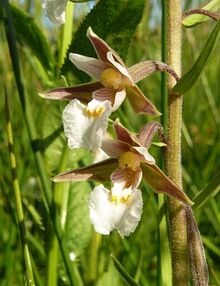 Epipactis palustris is a cool growing terrestrial orchid from the genus Epipactis.
Description
Edit
The plant blooms from late spring to summer with up to twenty 1.5 cm wide flowers.
Distribution
Edit
Plant is found in dunes and marshes with alkaline soils in Europe at elevations of 0 to 1600 meters
Plant prefers areas with moderate light and cool temperatures. Grow plants in a well drain mix of soil, perlite, and sand. Keep the medium constantly moist but not soaking wet and do not let it dry out.
Common Names: The Swamp Epipactis, The Marsh Helleborine
Amesia palustris (L.) A.Nelson & J.F.Macbr 1913
Arthrochilium palustre Beck 1890
Calliphyllon palustre (L.) Bubani 1901
Cephalanthera palustris Rich. ex Pritz. 1866
Cymbidium palustre Sw. 1799
Epipactis longifolia All. 1785
Epipactis palustris f. ochroleuca Barla 1868
Epipactis salina Schur 1866
Helleborine latifolia Moench 1842
Helleborine longifolia (L.) Moench 1794
Helleborine longifolia (All.) Soó 1929
Helleborine palustris (L.) Hill 1756
Helleborine palustris (Linne) Crantz 1814
Limodorum palustre (L.) Kuntze 1891
*Serapias helleborine var. palustris L. 1753
Serapias longiflora Asso 1779
Serapias longifolia L. 1763
Serapias palustris Mill. 1758
Resources
Edit
Molecular data indicate multiple independent colonizations of former lignite mining areas in Eastern Germany by Epipactis palustris (Orchidaceae)
Selfing potential in Epipactis palustris , E. helleborine and E. atrorubens (Orchidaceae)
Ad blocker interference detected!
Wikia is a free-to-use site that makes money from advertising. We have a modified experience for viewers using ad blockers

Wikia is not accessible if you've made further modifications. Remove the custom ad blocker rule(s) and the page will load as expected.