Epidendreae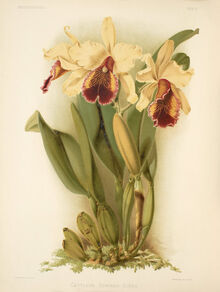 Cattleya dowiana from Reichenbachia. Orchids illustrated and described

Epidendreae is a Tribe in the subfamily Epidendroideae
This tribe includes most tropical epiphytic orchids.
Epidendreae were described by Kunth 1815, which included a large number of epiphitic generas. Bentham and Hooker in 1883 and Schlechter 1926 kept the circumscription in their systems which included a large number of genras.[1]
SubTribes
Edit
Adrorhizinae
Edit
Laeliinae
Edit
See Laeliinae for details
Pleurothallidinae
Edit
See Pleurothallidinae for details
Yoaniinae
Edit
References
Edit
Ad blocker interference detected!
Wikia is a free-to-use site that makes money from advertising. We have a modified experience for viewers using ad blockers

Wikia is not accessible if you've made further modifications. Remove the custom ad blocker rule(s) and the page will load as expected.