Encyclia triangulifera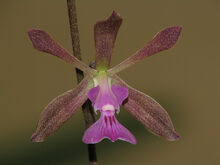 Encyclia triangulifera is a plant in the genus Encyclia.
Description
Edit
Plant blooms in the spring with six to eight 4 cm wide flowers.
Distribution
Edit
Plant is found growing in Cuba
Plants grow in intermediate to warm conditions and can be grown in medium size fir bark with perlite. Plant prefers drying periods between watering and bright light is recommended. Lengthen drying period a bit in the winter.
Common Name: The Triangular Encyclia
Epidendrum triangulatum Griseb. 1866
*Epidendrum trianguliferum Rchb. f. 1865