Disperis tysonii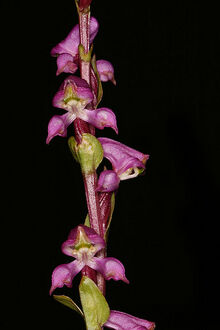 Disperis tysonii is a Disperis species found in Africa.
Description
Edit
Plants bloom in the summer with five to twenty 1.5 cm wide flowers. Flowers are fragrant.
Distribution
Edit
Plant is found in Lesotho, Swaziland, Cape Province, Natal, Orange Free State and Transvaal South Africa at elevations of 1500 to 3100 meters
Common Name:Tyson's Disperis
Disperis bicolor Rolfe 1913
Disperis kermesina Rolfe 1913
Ad blocker interference detected!
Wikia is a free-to-use site that makes money from advertising. We have a modified experience for viewers using ad blockers

Wikia is not accessible if you've made further modifications. Remove the custom ad blocker rule(s) and the page will load as expected.