Disa tripetaloides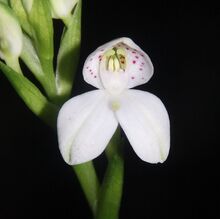 Disa tripetaloides is a disa species found in South Africa.
Description
Edit
Flowers are white or pink and 2.5 cm wide . Blooms from winter to summer.
Distribution
Edit
Found along rock crevasse, fast moving streams, and along waterfalls from elevations of 0 to 1000 meters in South Africa.
Keep tubers loose in sphagnum moss and plant in a mixture of sphagnum moss and perlite. Plant should be kept cool and in partial to full sun. Keep pot sitting in about 2 inches distilled water and change periodically. Always use purified water because plant is sensitive to minerals and repot annually. Avoid fertilization or use extremely less than recommended dosage.

Varieties
Edit
| Image | Name | Description |
| --- | --- | --- |
| | Disa tripetaloides variety | Sepals has heavy pink spots petals are pink |
| | Disa tripetaloides pink flush | Sepals and petals are light pink |
Common Name: Tripetalus-Like Disa
Disa excelsa Sw. 1800
Disa falcata Schltr. 1893
Disa venosa Lindl. 1838
Herschelia excelsa (Thunb.)
Kraenzl. 1904; Herschelianthe excelsa (Thunb.)
Rauschert 1983
Orchis tripetaloides L. f. 1781;
Satyrium excelsum Thunb. 1784
Ad blocker interference detected!
Wikia is a free-to-use site that makes money from advertising. We have a modified experience for viewers using ad blockers

Wikia is not accessible if you've made further modifications. Remove the custom ad blocker rule(s) and the page will load as expected.