Disa purpurascens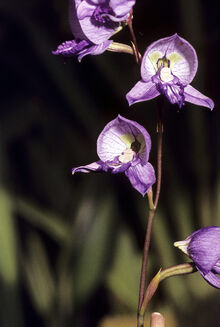 Disa purpurascens is a disa species found in Africa.
Description
Edit
Plant blooms in the fall with up to seven flowers.
Distribution
Edit
Plant is found in sandy coastline of south western Cape province, South Africa from 0 to 100 meters in elevation.
Grow plants in cool areas with medium amounts of light. Plants require a dormant rest in the summer.
Common Name: The purple Disa
Herschelia purpurascens (Bolus) Kraenzl., Orchid. Gen. Sp. 1: 803 (1900).
Herschelianthe purpurascens (Bolus) Rauschert, Feddes Repert. 94: 435 (1983).
Ad blocker interference detected!
Wikia is a free-to-use site that makes money from advertising. We have a modified experience for viewers using ad blockers

Wikia is not accessible if you've made further modifications. Remove the custom ad blocker rule(s) and the page will load as expected.