Disa cornuta

Disa cornuta is a cool growing Disa found in the grasslands of Southern Africa.
Description
Edit
Disa cornuta blooms in the spring. Flowers have purple sepals and white petals and are about 2 cm wide. Plant is usually found in partial to full sun. The plant can grow around 180cm tall.

Distribution
Edit
The plant is found growing near rivers, in rocky and sandy terrain of grasslands from Zimbabwe to South Africa. The plant is found scattered in grasslands from elevations of 150m - 1000m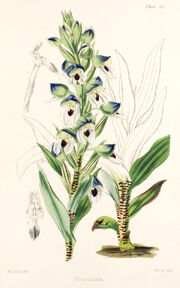 Disa cornuta should be grown in partial shade and in cool temperatures. The plant is deciduous and should be watered regularly. Use a well drain medium with pH around 6-7.5. Plant can be divided through rhizomes and tubers.

Common Name:Horned Disa
Disa macrantha Sw., Kongl. Vetensk. Acad. Nya Handl. 21: 210 (1800).
Disa aemula Bolus, J. Linn. Soc., Bot. 22: 69 (1885).
Disa cornuta var. aemula (Bolus) Kraenzl., Orchid. Gen. Sp. 1: 768 (1900).
External Links
Edit
Ad blocker interference detected!
Wikia is a free-to-use site that makes money from advertising. We have a modified experience for viewers using ad blockers

Wikia is not accessible if you've made further modifications. Remove the custom ad blocker rule(s) and the page will load as expected.