Disa baurii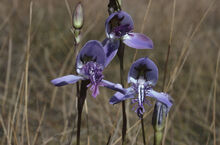 Disa baurii is a disa species named after 19th century German professor Dr. George Herman Carl Ludwig Baur.
Description
Edit
Plants bloom from late summer to fall with several flowers that are 1.5cm wide. Plant can grow up to 25 cm tall.
Distribution
Edit
Plant is found in grassland to mountains from Tanzania, Mozambique, Zambia, Malawi, and South Africa at 900 to 1500 meters in elevation.
Common Name:Baur's Disa
Disa hamatopetala Rendle
Herschelia baurii (Bolus) Kraenzl
Herschelia hamatopetala (Rendle) Kraenzl.
Herschelianthe baurii (Bolus) Rauschert
Ad blocker interference detected!
Wikia is a free-to-use site that makes money from advertising. We have a modified experience for viewers using ad blockers

Wikia is not accessible if you've made further modifications. Remove the custom ad blocker rule(s) and the page will load as expected.