Disa aconitoides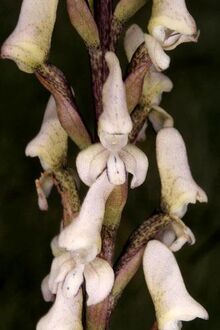 Disa aconitoides is a cool growing Disa found in the grasslands of Southern Africa.
Description
Edit
Disa aconitoides is 25–45 cm tall with sheathing leaves. Plant is cool growing and blooms in the summer. Plant is found in partial shade. Bloom consist of 15 to 70 pink to purple flowers with 1 cm diameter. Flowers may have purple spots.
Distribution
Edit
Found in grasslands, near bushes, and edge of forest of Burundi, Rwanda, Zaire, Ethiopia, Kenya, Tanzania, Uganda, Malawi, Mozambique, Zambia, Zimbabwe, Cape Province, Natal, and South Africa. The plant is found at elevations of 2100 to 2800 meters
Common Name:The Monkshood-Like Disa
Disa aconitoides subsp. goetzeana (Kraenzl.) H.P.Linder 1981
Disa bisetosa Kraenzl.1914; Disa chiovendaei Schltr. 1920
Disa concinna N.E.Br.1898; Disa delphinoides Haw. ex Schltr. 1895;
Disa goetzeana Kraenzl. 1900; Disa vaginata Chiov. 1911
Image
Name
Description
Disa aconitoides subsp. concinna
((N.E.Br.) H.P.Linder 1981)
Purple flowers
Disa aconitoides variant
Sepals and lip have purple spots found in South Africa
Ad blocker interference detected!
Wikia is a free-to-use site that makes money from advertising. We have a modified experience for viewers using ad blockers

Wikia is not accessible if you've made further modifications. Remove the custom ad blocker rule(s) and the page will load as expected.