Dendrobium subclausum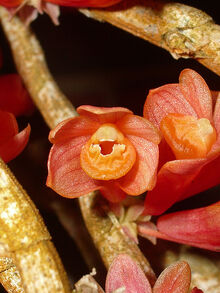 Dendrobium subclausum is a species of genus Dendrobium
Description
Edit
Plants can bloom at any time of the year but usually during winter with 2.5cm flowers.
Distribution
Edit
Plants are found in the forest of northern Papua and New Guinea and the Molucca Islands.
Plant grows in cool temperatures with medium amounts of light. Keep plant moist and fertilize during growth season. During winter reduce watering until new shoots appear. Grow in a well drain mix of sphagnum moss or medium fir bark.
Image
Name
Description
Dendrobium subclausum var. pandanicola
(J.J.Wood 1986)
Sepals, Petals and lip is yellow.
Common Names: The Almost-Closed Flower Dendrobium
Chromatotriccum angiense (J.J.Sm.) M.A.Clem. & D.L.Jones 2002
Chromatotriccum argiense (J.J.Sm.) M.A.Clem. & D.L.Jones 2002
Chromatotriccum asumburu (P.Royen) M.A.Clem. & D.L.Jones 2002
Chromatotriccum aurantiflavum (P.Royen) M.A.Clem. & D.L.Jones 2002
Chromatotriccum calyptratum (J.J.Sm.) M.A.Clem. & D.L.Jones 2002
Chromatotriccum dichroma (Schltr.) M.A.Clem. & D.L.Jones 2002
Chromatotriccum flammula (Schltr.) M.A.Clem. & D.L.Jones 2002
Chromatotriccum fruticicola (J.J.Sm.) M.A.Clem. & D.L.Jones 2002
Chromatotriccum infractum (J.J.Sm.) M.A.Clem. & D.L.Jones 2002
Chromatotriccum lane-poolei (R.S.Rogers) M.A.Clem. & D.L.Jones 2002
Chromatotriccum mitriferum (J.J.Sm.) M.A.Clem. & D.L.Jones 2002
Chromatotriccum pandanicola (J.J.Wood) M.A.Clem. & D.L.Jones 2002
Chromatotriccum paspalifolium (J.J.Sm.) M.A.Clem. & D.L.Jones 2002
Chromatotriccum phlox (Schltr.) M.A.Clem. & D.L.Jones 2002
Chromatotriccum riparium (J.J.Sm.) M.A.Clem. & D.L.Jones 2002
Chromatotriccum speciosum (J.J.Wood) M.A.Clem. & D.L.Jones 2002
Chromatotriccum subclausum (Rolfe) M.A.Clem. & D.L.Jones 2002
Dendrobium alpinum J.J.Sm. ?
Dendrobium angiense J.J.Sm. ?
Dendrobium argiense J.J.Sm. 1913
Dendrobium asumburu P.Royen 1979
Dendrobium auranti-flavum P.van Royen 1979
Dendrobium calyptratum J.J.Sm. 1911
Dendrobium dichroma Schlechhter 1912
Dendrobium flammula Schlecter 1912
Dendrobium fruticicola J.J.Sm. 1913
Dendrobium infractum J.J.Sm. 1913
Dendrobium lane-poolei R.S.Rogers 1925
Dendrobium mitriferum J.J.Sm. 1910
Dendrobium mitriferum J.J.Sm. f. alpinum J.J.Sm.?
Dendrobium paspalifolium J.J.Sm. 1935
Dendrobium phlox Schlechter 1912
Dendrobium riparium J.J.Sm. 1913
Dendrobium strictum Ridley 1916
Dendrobium subclausum var. pandanicola J.J.Wood 1986
Dendrobium subclausum var. phlox (Schltr.) J.J.Wood 1986
Dendrobium subclausum var. speciosum J.J.Wood 1986
Pedilonum argiense (J.J. Sm.) Rauschert 1983
Pedilonum calyptratum (J.J. Sm.) Rauschert 1983
Pedilonum dichroma (Schltr.) Rauschert 1983
Pedilonum flammula (Schltr.) Rauschert 1983
Pedilonum fruticicola (J.J. Sm.) Rauschert 1983
Pedilonum infractum (J.J. Sm.) Rauschert 1983
Pedilonum mitriferum (J.J. Sm.) Rauschert 1983
Pedilonum phlox (Schltr.) Rauschert 1983
Pedilonum riparium (J.J. Sm.) Rauschert 1983
Pedilonum strictum (Ridl.) Rauschert 1983
Pedilonum subclausum (Rolfe) Rauschert 1983