Dendrobium calicopis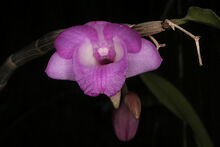 Dendrobium calicopis is a species of genus Dendrobium
Description
Edit
Plant blooms from summer to fall with two to six 3 cm wide flowers.
Distribution
Edit
Plants are found in Thailand and Malaysia
Keep plant in warm conditions with filtered bright light. Plant should be watered about three to five times a week. Grow plant in fir bark or sphagnum moss. Plant can also be mounted.
Common Names:
Anisopetala calicopis (Ridl.) M.A.Clem. 2003
Pedilonum calicopis (Ridl.) Rauschert 1983
Ad blocker interference detected!
Wikia is a free-to-use site that makes money from advertising. We have a modified experience for viewers using ad blockers

Wikia is not accessible if you've made further modifications. Remove the custom ad blocker rule(s) and the page will load as expected.