Cypripedium reginae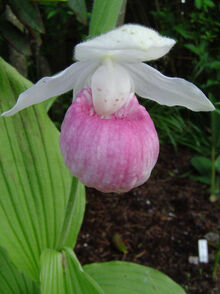 Scientific Classification
Scientific Classification
Kingdom: Plantae
Division: Magnoliophyta
Class: Liliopsida
Order: Asparagales
Family:Orchidaceae
Subfamily: Cypripedioideae

Tribe: Cypripedioideae
SubTribe: Cypripediinae
Genus: Cypripedium
Species: Cyp. reginae
Alliance: Cypripedium
Binomial name
Cypripedium reginae
Walter, Fl. Carol.: 222 1788
Cypripedium reginae is a Cypripedium species found from Central to Eastern North America
Description
Edit
Plant blooms in early summer with one to three, rarely four, 3-5 cm flowers.
Distribution
Edit
Found in calcareous swamps, bogs, and moist woods, ranging from Central Saskatchewan over to Newfoundland and Labrador in the north, and southward into Eastern USA.
Common names: The Showy Lady's Slipper
Ad blocker interference detected!
Wikia is a free-to-use site that makes money from advertising. We have a modified experience for viewers using ad blockers

Wikia is not accessible if you've made further modifications. Remove the custom ad blocker rule(s) and the page will load as expected.