Cypripedium japonicum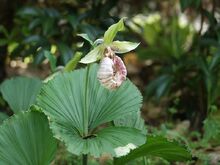 Cypripedium japonicum is a Cypripedium species found in East Asia.
Description
Edit
The plant blooms from Late spring to Early summer.
Distribution
Edit
Cypripedium japonicum is found in Japan; Korea; Anhui, Zhejiang, Hunan, Hubei, Shaanxi, Ganzu, Sichuan, and Guizhou provinces of China. The plant is found in montane and bamboo forest, usually near streams and lakes at elevations of 1000 to 2000 meters.
Grow plant in partial shade . Plants are difficult to establish and the rhizomes require a lots of space to creep.
| Image | Name | Description |
| --- | --- | --- |
| | Cypripedium japonicum variant | Lip is pink, sepals and petals are yellow green |
Common Names: Japanese Cypripedium
Cypripedium cathayenum S.S.Chien 1930
Cypripedium japonicum var. glabrum M.Suzuki 1980
Ad blocker interference detected!
Wikia is a free-to-use site that makes money from advertising. We have a modified experience for viewers using ad blockers

Wikia is not accessible if you've made further modifications. Remove the custom ad blocker rule(s) and the page will load as expected.