Cypripedium franchetii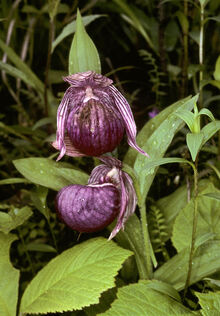 Cypripedium franchetii, is an orchid that is native to China
Description
Edit
Plants bloom in the summer with one flower.
Distribution
Edit
Plants are found at the edge of the forest and grassy areas at elevations of 1500 to 3300 meters in Sichuan, South Gansu, Shaanxi, Henan, Sichuan, and Hubei.
Keep the pH around 7.
| Image | Name | Description |
| --- | --- | --- |
| | Cypripedium calcicolum variant | Lip is white with red veins, sepals and petals are pink and also have red veins |
Common Names: Franchet's Cypripedium
Cypripedium lanuginosum Schltr. 1919
Cypripedium macranthos var. villosum Hand.-Mazz. 1936
Cypripedium pulchrum Ames & Schltr. 1919
Ad blocker interference detected!
Wikia is a free-to-use site that makes money from advertising. We have a modified experience for viewers using ad blockers

Wikia is not accessible if you've made further modifications. Remove the custom ad blocker rule(s) and the page will load as expected.