Ad blocker interference detected!
Wikia is a free-to-use site that makes money from advertising. We have a modified experience for viewers using ad blockers

Wikia is not accessible if you've made further modifications. Remove the custom ad blocker rule(s) and the page will load as expected.
Cypripedium fargesii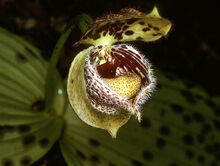 Cypripedium fargesii is a Cypripedium species found in
Description
Edit
Plant blooms with one flower during the summer
Distribution
Edit
Plants are found growing on grassy slopes in the forest at 2000 to 3200 meters in Sichuan, Gansu, and Hubei; China.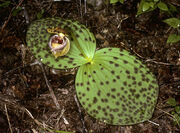 Common Names: Farges' Cypripedium
Cypripedium ebracteatum Rolfe, Bull. Misc. Inform. Kew 1896: 204 (1896).