Cymbidium hookerianum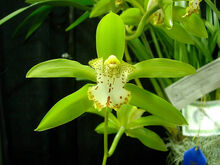 Cymbidium hookerianum 虎头兰 in chinese, is a species of Cymbidium which blooms on a pendant inflorescence.
Description
Edit
Plant has pendant inflorescence and blooms from winter to spring. Inflorescence consist of around six to fifteen 14 cm fragrant flowers. Roots are thin.
The plant was first described by Griffith in 1851 as Cymbidium grandiflorum based on a species collected in Bhutan, But the name has been already used by Swartz in 1799 to describe a species of Pogonia.[1] So the next name available was Cymbidium hookerianum, which was described based on material collected by Lobb in the 1850s. [1] The plant was sent to the nursery of Veitch and was again described by Reichenbach in 1866.[1]
Several variation also have been described such as Cymbidium hookerianum var. punctatum described by Cogniaux which differs by having a few red brown spots near the base of the sepals and petals and near the mid-lobe of the lip.[1]
This species is similar to Cymbidium wilsonii but differs by having larger flowers petals with red brown spots near the base, an apex acute side lobe with red brown spotting along the veins, and larger pollina length.[1]
Distribution
Edit
Plants are found growing as an epiphyte the shady and damp forest of eastern Nepal, Bhutan, Sikkim & Assam India, and the province of Xizang in China at elevations of 1500 to 2600 meters.[1]
Plant should be grown in cool areas with medium to bright light. Plant may also be grown warm, but is more difficult to maintain and flower. Pot with bark and perlite. Plant prefers dry periods between watering. Reduce watering during the winter. Water about once a week.

Varieties
Edit
| Image | Name | Description |
| --- | --- | --- |
| | Cymbidium hookerianum 'Big Fella' | Sepals and petals are green, lip is white with brown dots. |
Common Name: Hooker's Cymbidium
Cyperorchis grandiflora (Sw.) Schltr. 1924
References
Edit
Ad blocker interference detected!
Wikia is a free-to-use site that makes money from advertising. We have a modified experience for viewers using ad blockers

Wikia is not accessible if you've made further modifications. Remove the custom ad blocker rule(s) and the page will load as expected.