Cymbidium Cali Night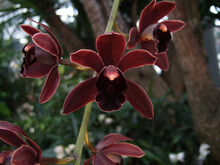 Cymbidium Cali Night is a cymbidium hybrid that blooms from Mid-winter through summer.the Flowers are also pendant.
Keep cool. Pot in medium fir bark or soil. Water approximately once a week in summer and about once every ten days in the winter. To avoid sun burns, keep in partial sun and partial shade.
Parentage
Edit
Generation 1
Generation 2
Cymbidium Black Forest = Cymbidium Gordon Gibbs × Cymbidium Tethys
Generation 3
Cymbidium Tethys = Cymbidium Suva × Cymbidium Khyber Pass
Cymbidium Gordon Gibb = Cymbidium Cabernet × Cymbidium aloifolium
Generation 4
Cymbidium Suva = Cymbidium Volcano × Cymbidium Saigon
Cymbidium Khyber Pass =Cymbidium Profita × Cymbidium Carisona
Cymbidium Cabernet = Cymbidium Promona × Cymbidium Carisona
Generation 5
Further Generations