Coryanthes speciosa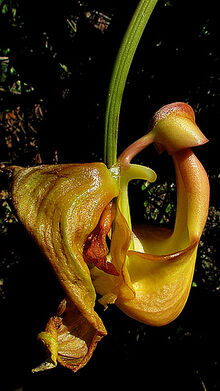 Coryanthes speciosa is an orchid species found in South America and bit of Central American as well.
Distribution
Edit
The plant is found in Trinidada & Tobago, French Guiana, Surinam, Guyana, Venezuela, Peru and Brazil at elevations around 100 meters
Description
Edit
Plant blooms during the summer with one to three flowers. Flowers are fragrant with the scent of mint.
Plant should be grown in shade. Keep in intermediate to warm temperatures and water regularly. Pot in medium fir bark or sphagnum moss. Keep humidity high. Plants are usually grown in baskets.
Common Name: The Outstanding Coryanthes
Coryanthes albertinae H. Karst. 1848
Coryanthes barkeri Beer 1854
Coryanthes maculata Hkr.
Coryanthes maculata Lindl. 1835
Coryanthes maculata var. punctata Lindl.
Coryanthes maculata var. vitrina Rolfe 1895
Coryanthes powellii Schltr. 1922
Coryanthes punctata Beer
Coryanthes splendens Barb. Rodr. 1877
Coryanthes speciosa var alba Lindl. 1840
Coryanthes speciosa var exima Cogn 1902
Coryanthes speciosa var. punctata (Beer) G.Gerlach 1993
Coryanthes speciosa var. sumneriana (Lindl.) G.Gerlach 1993
Coryanthes speciosa var vitellina Morren 1846
Coryanthes sumneriana Lindl. 1856
Epidendrum galeatum Vell. 1831
Gongora macrantha Hooker
*Gongora speciosa Hkr. 1827
Meliclis speciosa (Hook.) Raf. 1836
Ad blocker interference detected!
Wikia is a free-to-use site that makes money from advertising. We have a modified experience for viewers using ad blockers

Wikia is not accessible if you've made further modifications. Remove the custom ad blocker rule(s) and the page will load as expected.