Chysis bractescens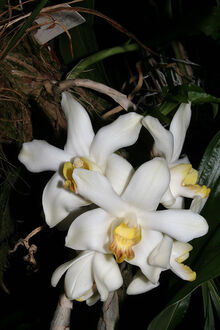 Chysis bractescens is a species in the genus Chysis.
Description
Edit
Plant blooms in the spring with up to ten pendulous flowers. Flowers are 7.5 cm and fragrant
Distribution
Edit
Plant is found growing on trees and rocks in Mexico, Guatemala and Belize, El Salvador, Honduras and Nicaragua at elevations of 800 to 1500 meters.
The plants should be in moderate light and intermediate to warm temperatures. The plants can be potted in a well drain mix such as coconut husk or tree fern fibers or mounted. The plants should be watered and fed heavily while they are in active growth, and watering should be reduced during the winter during the resting period. They should never be allowed to completely dry out, however, even during the rest period, and the pseudobulbs should never be seen to shrivel.
Common Names: The Bracteate Chysis
Chysis aurea Lindley var bractescens [Lindley]P.H.Allen 1955
Thorwaldsenia speciosa Liebm. 1844
Thorvaldsenia speciosa Liebm. 1844
Ad blocker interference detected!
Wikia is a free-to-use site that makes money from advertising. We have a modified experience for viewers using ad blockers

Wikia is not accessible if you've made further modifications. Remove the custom ad blocker rule(s) and the page will load as expected.