Chloraea viridiflora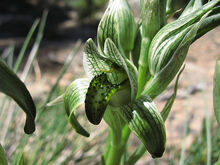 Chloraea viridiflora is an species in the genus Chloraea.
Description
Edit
Plant blooms in the late spring with several flowers.
Distribution
Edit
Plants are found growing in Argentina and Southern Chile at elevations around 1500 to 2000 meters
Common Names: The Bare Lipped Chloraea
Asarca tuberculata Kuntze 1891
Asarca verrucosa (Phil.) A.Rich. ex Gay 1852
Asarca viridiflora (Poepp.) Kuntze 1891
Chloraea elwesii Rolfe 1916
Chloraea robusta Rolfe 1916
Chloraea verrucosa Phil. 1858
Ad blocker interference detected!
Wikia is a free-to-use site that makes money from advertising. We have a modified experience for viewers using ad blockers

Wikia is not accessible if you've made further modifications. Remove the custom ad blocker rule(s) and the page will load as expected.