Chloraea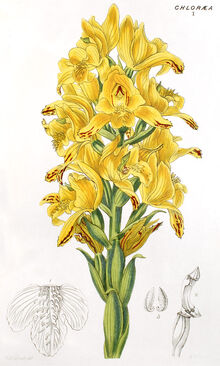 Chloraea piquichen plate from
Illustrations of Orchidaceous Plants
Chloraea is a genus of around fifty terrestrial species
Distribution
Edit
Plants of this genus is distributed through out south America.
Description
Edit
Plants in this genus have hairy roots and finger shaped tubers with hairy roots.
The genus is named after the greenish hue of flowers in this genus
Bieneria Rchb.f 1853
Geoblasta Barb. Rodr. 1891
Ulantha Hkr. 1830
External Links
Edit

Chloraea at CultureSheet.org
Ad blocker interference detected!
Wikia is a free-to-use site that makes money from advertising. We have a modified experience for viewers using ad blockers

Wikia is not accessible if you've made further modifications. Remove the custom ad blocker rule(s) and the page will load as expected.