Calanthe vestita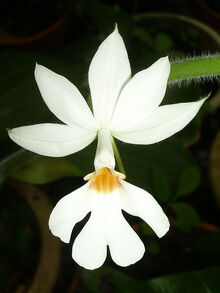 Calanthe vestita is a species of orchid from the genus Calanthe.
Description
Edit
Plant blooms in the winter with six to sixteen 7.5 cm wide flowers.
Distribution
Edit
Plant is found growing in Myanamar, Vietnam, Lower Thailand, Malaysia, Borneo and Sulawesi at elevations of 600 to 1000 meters
Plants grows in cool to intermediate temperatures with shade. When potting Calanthe plants, the pseudobulbs must be half buried into the potting media. Plants can be potted in 40% soil, 40% dry bark and 20% perlite or another humus rich soil mixture. Plants should be watered regularly in the summer. Reduce watering during the winter until new growths appear in the spring.
Common Names: The Calanthe that is Surrounded by Bracts
Alismorchis vestita (Lindl.) Kuntze 1891
Amblyglottis pilosa de Vriese ex Lindl. 1854
Calanthe grandiflora Rolfe 1901
Calanthe melinosema Schltr. 1925
Calanthe padangensis Schltr. ex Mansf. 1934
Calanthe pilosa (de Vriese ex Lindl.) Miq. 1859
Calanthe regnieri Rchb.f 1883; Calanthe turneri Rchb.f. 1883
Calanthe vestita var. sumatrana Schltr. 1911
Calanthe vestita var. turneri Veitch in ?
Calanthe violacea Rolfe 1913
Cytheris griffithii Wight 1852
Phaius vestitus (Wall. ex Lindl.) Rchb.f. 1867
Preptanthe vestita Rchb.f 1852-3
Preptanthe villosa Rchb.f 1857
Ad blocker interference detected!
Wikia is a free-to-use site that makes money from advertising. We have a modified experience for viewers using ad blockers

Wikia is not accessible if you've made further modifications. Remove the custom ad blocker rule(s) and the page will load as expected.