Bletilla ochracea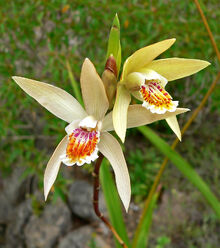 Bletilla ochracea is a species of orchid found in Asia.
Description
Edit
Plant blooms in spring with up to 20 flowers
Distribution
Edit
Plant is found growing among grasses in Sichuan and Yunnan Provinces China at around 800 meters in elevation.
Plant is very tolerant of cool to cold temperature and shade to full sun. Water regularly. Keep plant in a well drain medium.
| Image | Name | Description |
| --- | --- | --- |
| | Bletilla ochracea variant | Petals and sepals are more white, lip is yellow. Found in Sichuan |
Common Names: The Ochre-Yellow Bletilla
Jimensia ochracea (Schltr.) Garay & R.E.Schult., 1958.